Buy Coffee Beans Online
---
Since 2008, we have been supplying coffee beans and ground coffee to the UK with customers nationwide. Coffee shops, domestic customers, garden centers, hotels, restaurants and offices have been enjoying buying coffee beans online from us.
Our speciality coffee is roasted by us as we are coffee roasters based in Yorkshire. We work exclusively with Arabica coffee beans and all our coffee is ethically sourced from South America, Central America, Africa and Asia.
Play our video
---
Next Day Coffee Delivery
---
As we deliver with Royal Mail as well as DPD we give you the option to order little and often keeping your coffee super fresh. Coffee needs to rest after it has been roasted and we do this for you at our roastery. This way we ensure that your coffee is ready to drink when it arrives and of course we only dispatch coffee that is very fresh. We aim for next day delivery whenever possible making buying your coffee beans online nice and easy.
What coffee is best?
---
The first thing to think about is how you are brewing your coffee. Filter coffee is often drunk black or with little milk making it very different compared to espresso coffee. For this reason, filter coffee beans are often roasted lighter as this way the beans work well with the filter brewing method. Brewing an espresso blend as a filter coffee will produce a very strong coffee and brewing a caffe latte with a light single origin will be very mild and sweet.
The best coffee is probably the one that matches your flavour preference. Have a good read at the description of the coffee. Don't worry about the price as we price all our coffees very competitively.
Coffee descriptions
---
Putting a flavour into words is not easy. We work hard to match the flavour description to the actual coffee. To make things easier for you we give you certain info about the coffee:
Roast level
the darker the roast the bigger the body, the lower the acidity and the smoother the coffee - this does not always apply though
Flavours
two or three words that we think describe the flavour quite well - extracted flavours will vary depending on brewing methods and recipes
Body
the mouthfeel and 'weight' of the coffee
Sweetness
the amount of sweetness - this does not always refer to a sugary sweetness
Acidity
the brightness of the coffee - can be a sourness or sharpness as well
What filter brewing method would you recommend?
---
There are many methods to brew filter coffee such as the cafetiere, Aeropress, V-60 and Chemex. Immersion brewing methods such as the cafetiere (French Press) often produces coffee that has a heavier body and lower clarity. Drip methods such as V-60 and Chemex often use filter papers and this results in a cleaner and brighter cup - especially the Chemex.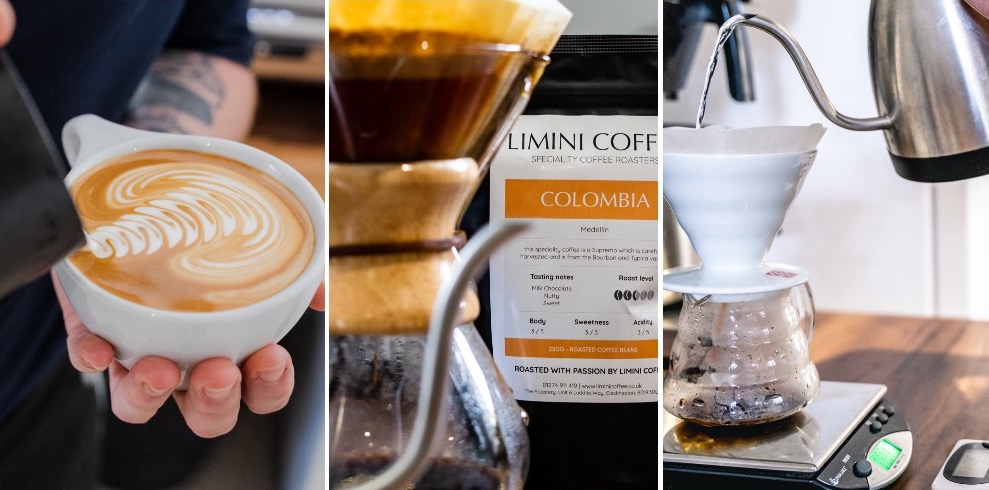 Ground coffee vs roasted beans
---
We can grind your coffee free of charge. Simply select the type when you buy your coffee beans online.
Create an account
---
After you have placed your first order we will email you over the invoice. In this email you will find an activation link for your account. This then makes ordering super easy giving you the option for repeat payments and more.
Enjoy buy coffee beans online from us
---
So please choose your category and enjoy your products from Limini Coffee. Thank you!