Buy Coffee Beans Online
---
Delicious coffees, roasted fresh every day

Buy Coffee Beans Online
---
Coffee is and will always be our passion and we enjoy supplying you with coffee beans from all over the world which we offer at amazing prices.
We source, develop and roast coffees that are ethically sourced and of the speciality grade and are utterly delicious.
Whether you are buying coffee for your business or for at home, we would love to help you out.
Environmental Impact
---
We source only speciality grade and work with the best UK importers.
Our energy is renewable and we use the world's most environmentally friendly roasting machine.
We support the World Coffee Research and work with origin projects to help local communities.
We recycle and avoid buying plastics, minimise waste and use recyclable coffee packaging.
Next Day Coffee
---
We aim to dispatch the same day for next day delivery. Deliveries are made with DPD and Royal Mail. You can also collect from our roastery.
View our delivery charges here.
Fresh & Rested
---
Curious about resting / the age of our coffee? Click here for more info.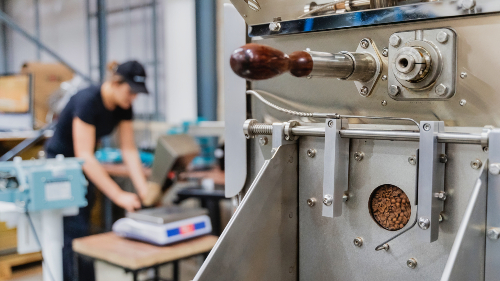 NEW to our single origin coffee range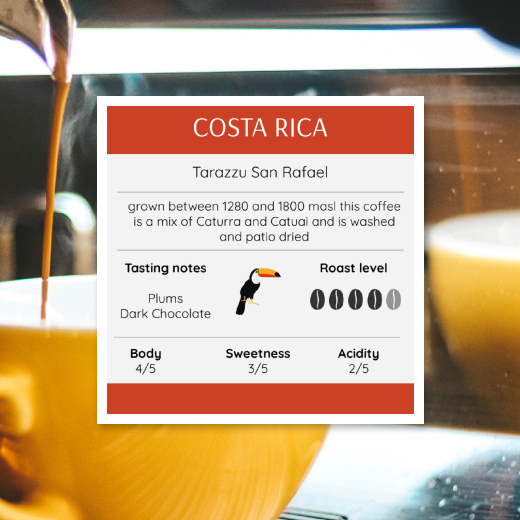 ---
Dark Chocolate Plums Smooth
body

---

4 / 5
sweetness

---

3 / 5
acidity

---

2 / 5
Costa Rica Tarrazu San Rafael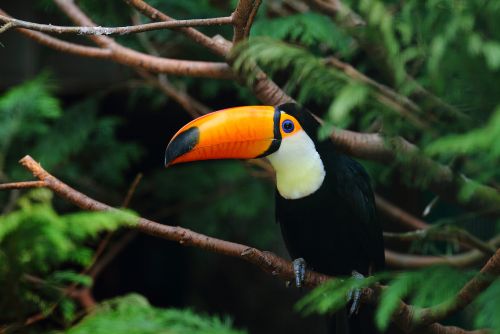 Tarrazu is a world famous coffee growing region known as the Area of the Saints. This Strictly Hard Bean coffee comes from rich volcanic soils in ideal growing conditions.
A washed coffee with a good creamy body and notes of plums and chocolate.
view more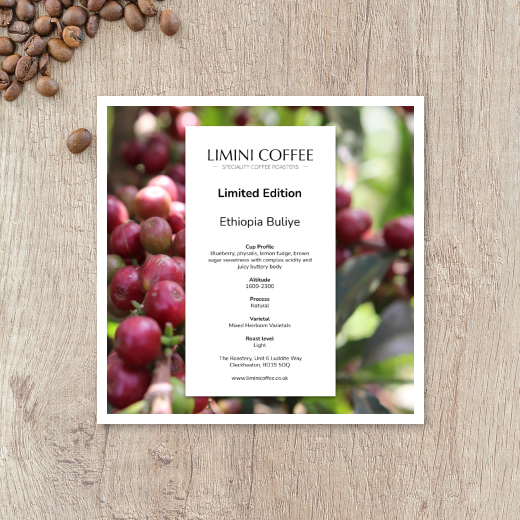 Buno Coffee Trading is a relatively small exporter who manage 7 washing stations located in the area of Guji in Ethiopia's southern region. Very high terroir at well over 2000 masl and an abundance of relatively young, healthy trees whose maturation is gradual, means ideal conditions for producing outstanding cup qualities. Producers in the area grow their coffee around the lush forests on the hills and village outskirts under the shade of indigenous trees like Cordia Africana, Acacia and Albizzia.
Buno was established in 2018 and is managed by Mr.Abiyot who oversees the selection of partner farmers, the processing of cherry and the drying practices. Buno is focused on working with farmers with between 8-15 hectares of land which makes quality improvements easier to manage and ensures that produced volumes of cherry can be separated into single producer micro-lots. To ensure that farmers wait to pick only fully ripened cherries, Buno pays farmers a premium of one birr for every kilo delivered after the harvest. Additionally, Buno provides a credit line to farmers during the off-season for harvest related expenses. The loan is then deducted from their payment upon cherry selection, interest free.
The cherry selection we have witnessed at Buno's sites are by far the best we have seen in Ethiopia. One of Buno's sites, Dikitu, has 120 raised beds which is are exclusively for processing natural coffees.
The word 'Buliye' means 'boarding' in the Afaan Oromoo language, and is the name of the small village around which coffee produced for this lot comes from. 11 growers contributed coffee to the lot who, on average, how farms of 5 hectares in size. Farmers are paid around 45-50 Ethiopian Birr/kg farm gate price for their cherry. Coffee in the area grows under native shade trees such as false banana, acacia and Wanza. The native soil is fertle volcanic red soil and sandy loam.
The washing station was established in 2005.
Blueberry Juicy Sweet
view more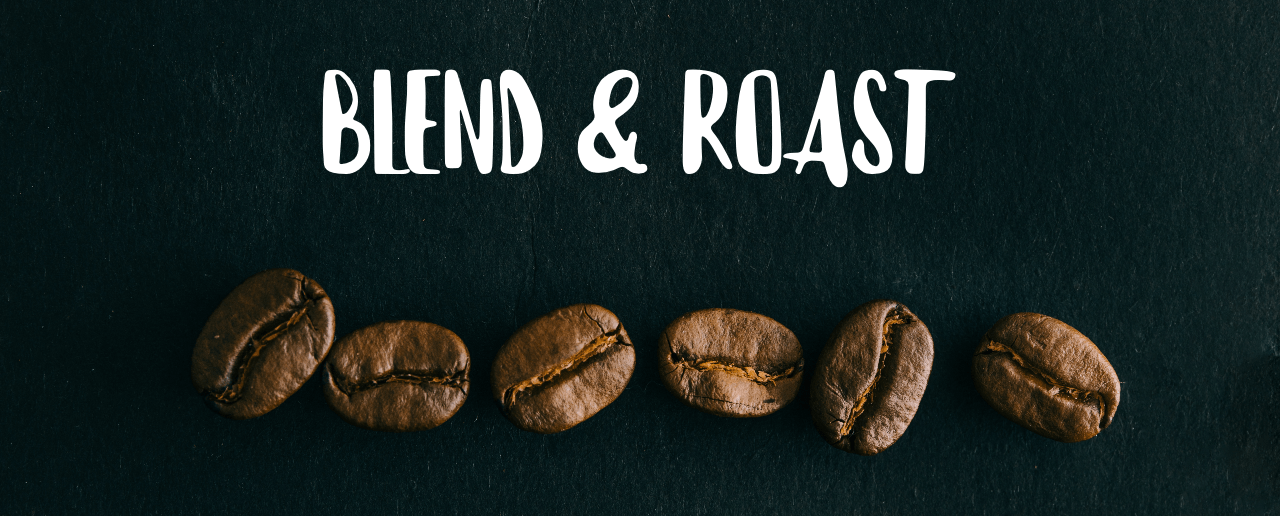 Reviews from our lovely customers
---
My preferred choice of coffee roasters, always helpful and competitive prices. Training is always a treat and pleasure - Ben
Excellent coffee, fast delivery, and a very reasonable price. Really enjoying the Kata blend for espressos at the moment. Highly recommended. - Matthieu
Received second delivery of coffee which is Rimini and can say that this is a VERY smooth coffee which gives a great taste of chocolate. Tried it as water based and milk based. Both great We have to say this could be our favourite so far. ( but we say this every time we try a new one lol ) Highly recommend fast delivery and if required speaking with people at the Roastry is highly recommended as their knowledge is fantastic and can help in lots of ways if required. I hope to visit the Roastry at some point Many thanks Andrew
If you want a good selection, fast delivery. Of great coffee bean blends then Limini is the place to go. Can't fault them so what more would one want?. - K J Brooks
I came across Limini after searching for local coffee roasters. I hadn't realised they were just up the road from me. How could I have missed them all these years??? My usual roaster are having issues with backlog orders and therefore couldn't ship in time and so I decided to give Limini a try. I have to say, I was blown away. I messaged Limini that I was out of coffee, and really needed my morning caffeine fix. They arranged for me to collect my order straight away. On collection, they left me gift along with the order. I though that was a really nice touch, and show's their appreciation for their customers. The coffees are spot on and my experience has been faultless so far. I will definitely be using them again. Keep up the good work Limini. - Mohammed
Excellent coffee and so easy to re order - David Tomlinson
We liked Limini a few years ago when they were in Bradford but we drifted away into Nespresso capsules for convenience. We moved back because i bought a Sage Oracle coffee machine for a bargain price and there's no going back now. We only drink decaf coffee so that limits choice, and having revisited Limini we find the taste and strength of their decaf beans suits us perfectly - and the price is better than most competitors. Even at our domestic level you quickly learn about the importance of freshly roasted beans and it is easy to set up a supply cycle with Limini. Chris from Harrogate
Still enjoying trying the various coffees supplied by Limini, both blends and single origin. Although we like some more than others we've never been disappointed. Service is always super too. Can't recommend enough. - Michael
Excellent company and excellent coffee great value and kind service many thanks. - Stephen kemp
Best coffee beans buy far in my opinion and the price is good too compared to other online coffee services. These guys are honest don't try to rip you off. Quick delivery. Lots of different options description wrote with passion for all different coffee beans. Would recommend to anybody who likes a nice coffee. Can't fault them Limini Coffee is 6* out of 5. - Nandor
This is seriously good coffee. I love their Limini blend dark roast. Used to have subscriptions with Pact & Bean To Door which I have cancelled since discovering Limini. The roast is so much fresher, the flavour more intense and the aroma of the coffee is fantastic. The beans are oily and not dried out so you know they are freshly roasted and this leads to the best crema. Love the fact that they also do subscriptions now too. - Niall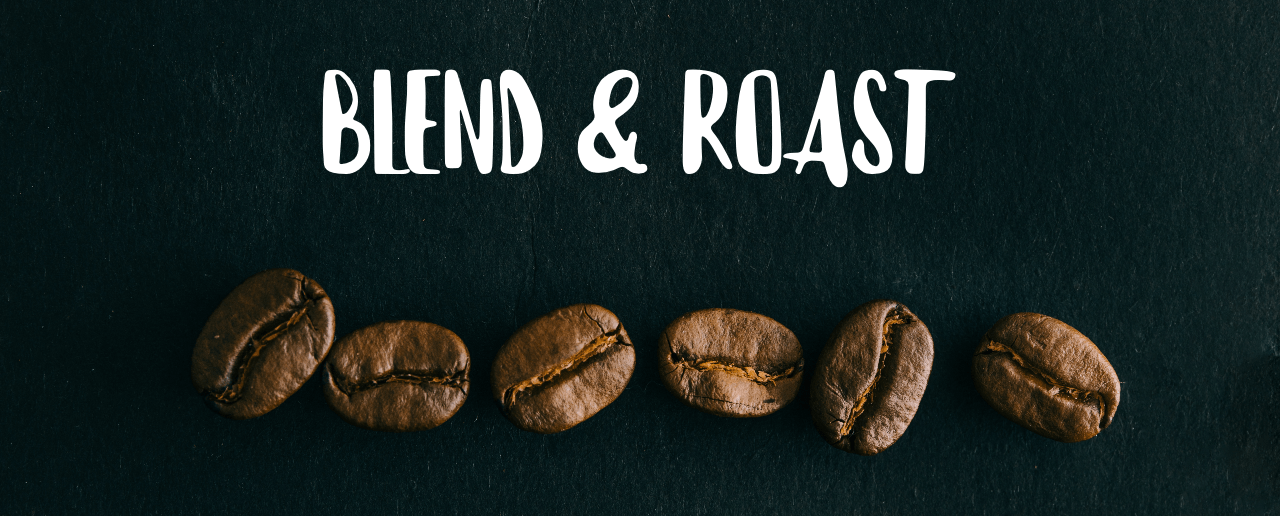 Buy Coffee Beans Online
---
Since 2008, we have been supplying coffee beans and ground coffee to the UK with customers nationwide. Coffee shops, domestic customers, garden centers, hotels, restaurants and offices have been enjoying buying coffee beans online from us.
Our speciality coffee is roasted by us as we are coffee roasters based in Yorkshire. We work exclusively with Arabica coffee beans and all our coffee is ethically sourced from South America, Central America, Africa and Asia.
What coffee is best?
---
The first thing to think about is how you are brewing your coffee. Filter coffee is often drunk black or with little milk making it very different compared to espresso coffee. For this reason, filter coffee beans are often roasted lighter as this way the beans work well with the filter brewing method. Brewing an espresso blend as a filter coffee will produce a very strong coffee and brewing a caffe latte with a light single origin will be very mild and sweet.
The best coffee is probably the one that matches your flavour preference. Have a good read at the description of the coffee. Don't worry about the price as we price all our coffees very competitively.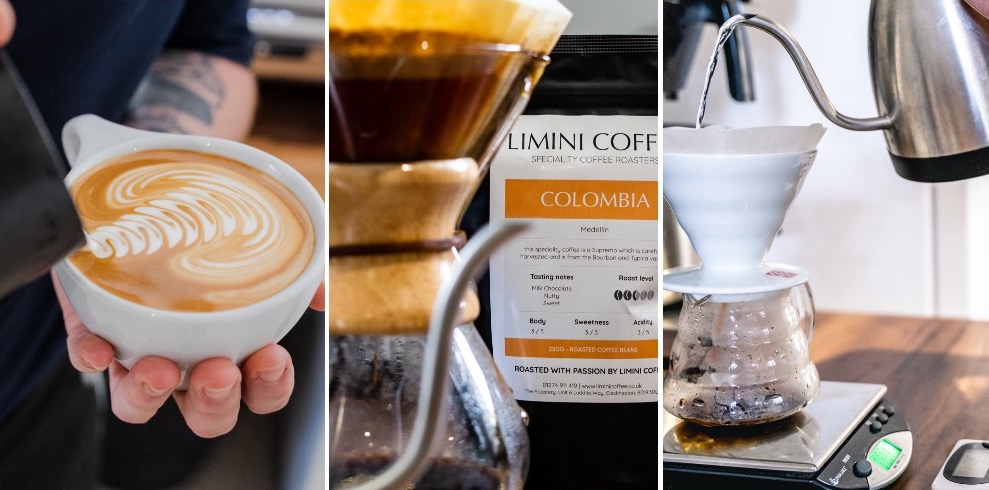 Coffee descriptions
---
Putting a flavour into words is not easy. We work hard to match the flavour description to the actual coffee. To make things easier for you we give you certain info about the coffee:
Roast level
the darker the roast the bigger the body, the lower the acidity and the smoother the coffee - this does not always apply though
Flavours
two or three words that we think describe the flavour quite well - extracted flavours will vary depending on brewing methods and recipes
Body
the mouthfeel and 'weight' of the coffee
Sweetness
the amount of sweetness - this does not always refer to a sugary sweetness
Acidity
the brightness of the coffee - can be a sourness or sharpness as well
Next Day Coffee Delivery
---
As we deliver with Royal Mail as well as DPD we give you the option to order little and often keeping your coffee super fresh. Coffee needs to rest after it has been roasted and we do this for you at our roastery.
This way we ensure that your coffee is ready to drink when it arrives and of course we only dispatch coffee that is very fresh. We aim for next day delivery whenever possible making buying your coffee beans online nice and easy.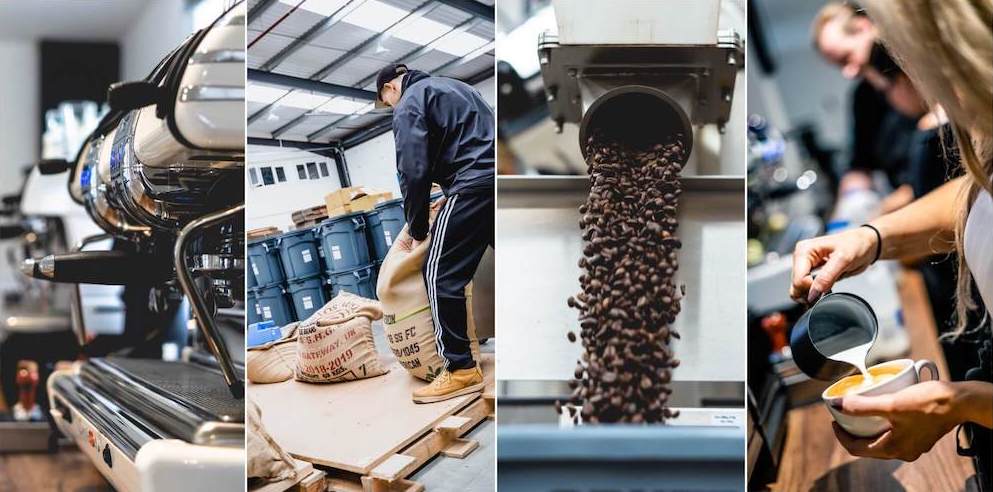 What filter brewing method would you recommend?
---
There are many methods to brew filter coffee such as the cafetiere, Aeropress, V-60 and Chemex. Immersion brewing methods such as the cafetiere (French Press) often produces coffee that has a heavier body and lower clarity.
Drip methods such as V-60 and Chemex often use filter papers and this results in a cleaner and brighter cup - especially the Chemex.
Ground coffee vs roasted beans
---
We can grind your coffee free of charge. Simply select the type when you buy your coffee beans online.
Buy coffee beans online from us
---
So please choose your category and enjoy your products from Limini Coffee. Thank you!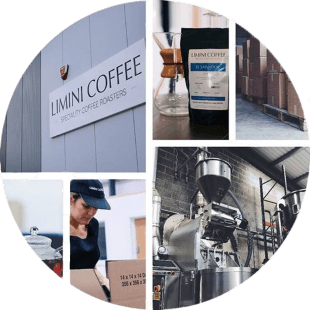 call us for a chat on 01274 911 419
Monday - Friday | 09:00 - 16:30
Closed bank holidays
Terms and conditions | Privacy policy
By continuing to browse you agree to our use of cookies.
Copyright © 2008-2023 Limini Coffee Services Limited. All Rights Reserved